Welcome to the Adventuress in the Wild community!
My name is Kate and I have been running AITW since 2020
My journey into a life of adventure started when I quit my career as a police officer in 2014 to travel the world. What was meant to be a a year long career break turned into 6 years of bouncing around the globe seeking one adventure after another.
During a stint in Australia, despite having very little hiking experience, I was convinced to go on my first overnight hike…A 7 day trek through the heart of Tasmania, eek! I remember reluctantly pulling on my heavy pack believing there was no feasible way I could do it, I was not a hiker! Six hours of trudging through the jungle led me to a vast remote beach which seemed to stretch on forever. I felt engulfed by euphoria, like I had been the first to discover this beautiful peaceful place. The realisation that hiking could help me discover places untouched by wider civilisation lit a fire in me. The sense of achievement when I finished the hike was transformational. That trip gave way to an obsession for adventure, leading me to discover hikes around the globe from Brazil to Vietnam. 
When I moved back to the UK in 2020 I realised that I had nobody to go on adventures with, so I qualified as a hiking guide and created our community to connect with like-minded Adventuresses.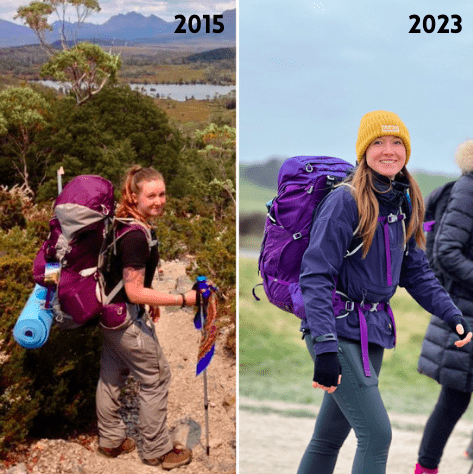 In the past three years the Adventuress In The Wild community has welcomed thousands of women, connecting like-minded intrepid souls who have made friends for life through hundreds of events, including our overseas trips and weekly socials. Beyond this Adventuress has helped so many discover life beyond their comfort zone, building confidence through adventure with the support of the community. 
As a queer woman it felt important to create an inclusive space for ALL women & non-binary, despite orientation, background or culture. 
To join one of our events you can find them here or on our Meetup page, or go wild on one of our big overseas trips. 
The community has been life changing for me due to the people I've met and places it has taken me, and I hope that it can do the same for you too. 
Adventuress is all about pushing your boundaries to experience life beyond your comfort zone. 
Whats waiting for you there? A sense of achievement that'll leave you filled with confidence, and the realisation that you have it in you to achieve more than you ever imagined. 
Our guides and members of the community are super supportive, and above all we love to have fun. Laughter is 100% guaranteed. 
We believe that every community matters, which is why we welcome all women and non-binary femmes. We recognise that some of you do not feel like you are represented in the world of outdoor pursuits, and we want to break that barrier and show that adventure is for everybody.