WINTER SKILLS SCOTLAND ADVENTURE
Ever dreamed of trying your hand at winter mountaineering? Get to grips with the basics alongside your Adventuress fam for a weekend of fun in Scotland
3pm Check-in to your hotel where you will be met by your host and Adventuress fam for the weekend. This trip is hosted by AITW Founder Kate who will be there for anything you need for the duration of the trip. We'll take a walk together through the heart of Fort William to grab our mountaineering kit.
In the evening we will head out to dinner to get to know each other and share the excitement for our coming adventure.
*Our days on the mountain are always subject to change based on the weather conditions, which can be unpredictable in Scotland at this time of year. The safety of the group is always our main priority*
We will be up bright and early for our Al la carte breakfast before heading to the mountain.
Depending on the weather we will take the UK's one and only mountain gondola up 650m to reach the snow line, if the weather is clear we will be treated to an amazing view of the valleys and Lochs below.
Now time for the fun part! Armed with our mountaineering gear, we'll be taught essential winter skills, including how to self arrest using an ice axe and how to ascend steep terrain safely in crampons. A lot of our lessons will have us sliding around in the snow and having a giggle in the process.
After a long day we'll return to the hotel for a rest before heading out to the locally famous Black Isle Bar, a converted old church known for it's wood fired pizzas, craft beer and organic wines (Optional).
It'll be another early rise for our hearty breakfast before heading to the hills to put all of our new skills into action.
Given the location of Fort William we will have plenty of trails on our doorstep. The trail chosen will depend on the conditions and our groups ability level.
If the conditions are favourable then we will attempt a summit, but if not we will stick to easier trails, either way expect a challenging day and a great adventure.
Feeling accomplished from our day on the hill, we will head back to Fort William to say our goodbyes to those heading home. If choosing to stay an extra night (optional) then it'll be time to celebrate, we deserve it!
We will be staying in the quirky and modern 4* Garrison Hotel located at the end of Fort William High Street.
Converted from an old Police Station, the hotel still features some of the old holding cell gates.
The Garrison features a bar, allergy-free rooms, and free WiFi. 
Every room has a desk and a flat-screen TV. All rooms are equipped with a kettle and a private bathroom with a shower, towels, and free toiletries. Each room will come with a welcome bottle of Prosecco. 
Each morning enjoy a boutique style Al la carte breakfast, with a wide range of brunch style classics, pastries, and smoothies.
The town of Fort William is set in the west Scottish Highlands perched on the shores of the grand Loch Linnhe. Known as the gateway to Ben Nevis (Scotland's tallest mountain) and end point of the famous 'West Highland Way' trail, Fort William is a playground for hill walkers and climbers.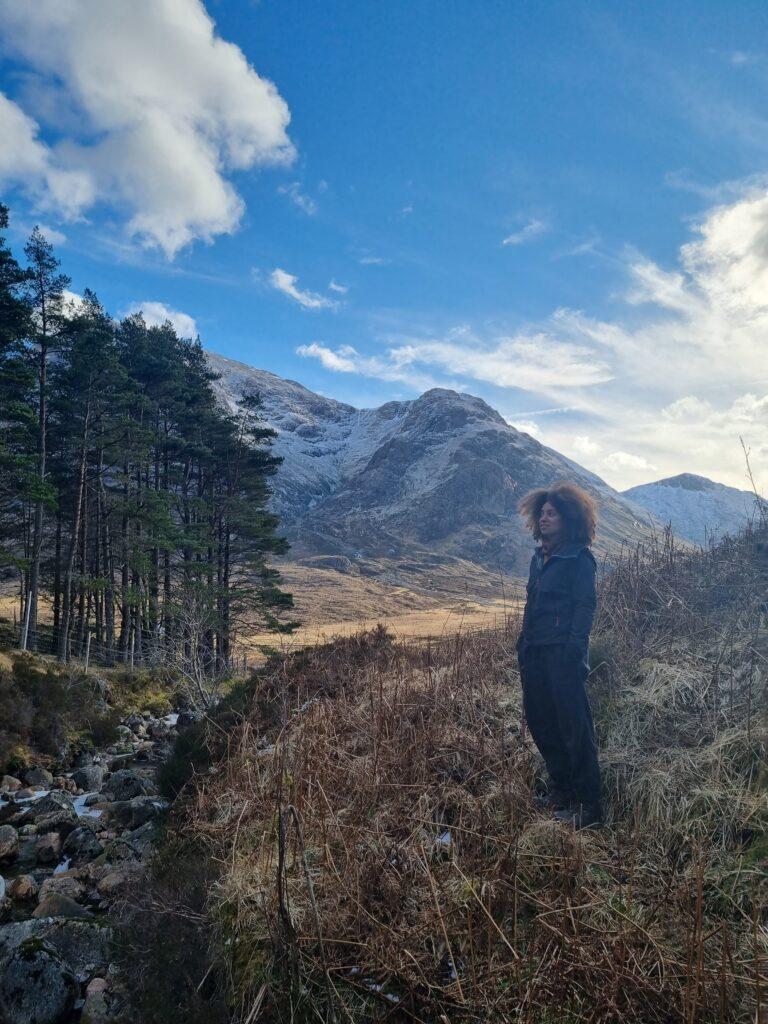 The town is surrounded by mountain lined trails, with endless photo opportunities wherever you turn
Fort William has plenty of cute cafes and restaurants, along with a bustling High Street with every outdoor shop imaginable (Somebody hide my wallet).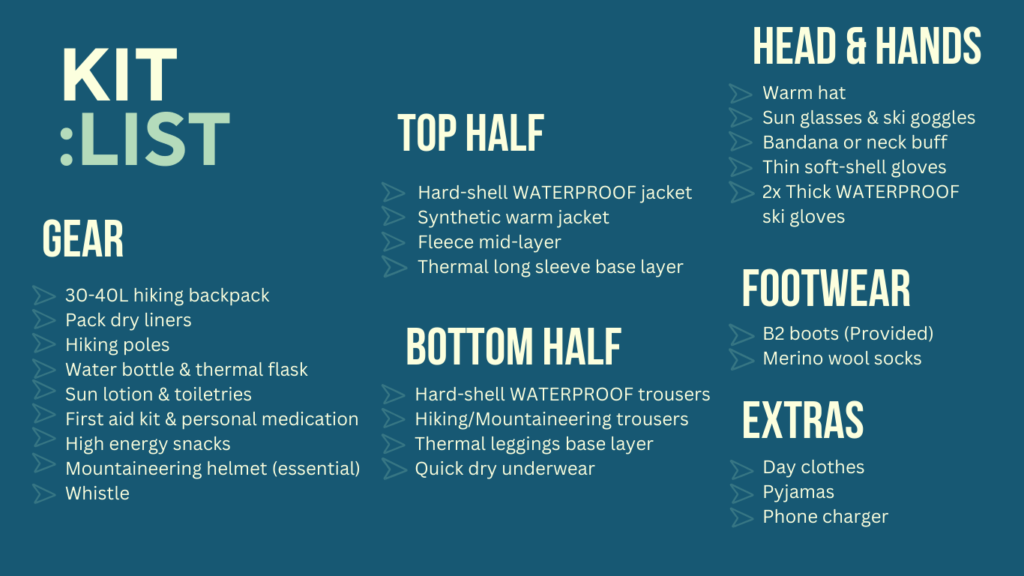 How to become a member for discounts
Is this a women only trip?
Adventuress in the Wild specialise in adventures tailored for women, providing an encouraging and supportive environment to push comfort zones along side other intrepid souls. We are on a mission to diversify the outdoors and welcome ALL women regardless of age, orientation or background.
Kit list info
To ensure that you get the most out of this adventure we ask that everybody comes fully prepared. Here is some extra info on some items mentioned on the kit list which can be found above.
Included in the cost of the trip you will receive an ice axe, B2 boots and crampons. The smallest size shoe rental is a size 4.
For your safety you must bring along a climbing helmet to take part in the trip. This is different from cycling or other helmets as they are designed to take multiple impacts from different angles in the event of a rock fall.
Not all 'waterproof jackets' are waterproof! We recommend that your jacket is GORE-TEX and can stand up to potentially harsh conditions. If you have an old waterproof jacket, give it a check to see if it is still up to the job, as jackets may lose their proofing properties over time. The outer shell should also be windproof and have a hood that can fit over a helmet. The jacket should be breathable so perspiration can escape.
'Layering' is key for temperature regulation so that you can remove or add layers if needed.
In snowy and wet conditions warm synthetic layers work better than 'down' as the down can clump when wet causing cold spots. This can also be caused by the rising of perspiration.
Hiking trousers and tops should be made of quick dry synthetic material. Avoid cotton and denim.
Merino wool is recommended for thermal layers and socks, as it has great thermo regulating properties, keeping you warm when cold and vice versa!
If you own B2 boots that fit crampons then do feel free to bring them, but they will also be provided.
Hats should be free of bobbles to fit under the helmet.
The white snow can cause a lot of glare which can damage our eyes over time. Come prepared with ski goggles and some UV protection sunglasses.
In minus temperatures our fingers are most at risk! Bring enough gloves that you will have a spare pair if one gets too wet.
A 30-40 litre backpack is recommended so there is enough room for extra layers and your helmet when it is not in use. Hiking and mountaineering specific backpacks will come with attachments to secure your ice axe when it is not in use. Using 'dry liners' over pack covers is highly recommended as the winds can rob you of a pack cover very quickly!
Avoid bringing hydration bladders as the tube can easily freeze in minus temperatures. Nalgene bottles are very hardy and can survive most conditions.
Your guides will be carrying first aid kits, however it is always recommended to bring your own personal first aid kit including an emergency blanket.
Guaranteed departure?
This trip needs a minimum of 4 Adventuresses to run.
Will the guides be female
*For our trips we love to inspire our Adventuresses with incredible female guides, along with supporting female, non-binary and trans guides in the outdoor industry.
Due to availability this isn't always possible, so in some instances the guides may be male.
No matter the gender, all of the guides that we work with support our ethos, and provide a fun and safe environment.
How fit do I need to be for this trip?
A good level of physical fitness is required for this trip. You will be hiking uphill for long distances in winter conditions on mountainous terrain. If you're a confident hill walker and wish to take your experience to the next level then this is the trip for you.
Not recommended for hill walking beginners or those who struggle with ascents, descents or poor weather conditions. If you have historical issues with knee or ankle joints then it is recommended to seek medical advice prior to booking.
If we have more than 4-6 Adventuresses booked onto the trip then two guides will be used to give us the option to split into two groups based on ability level on the second day, however this is not a guarantee and a guide can never supervise more than 4-6 Adventuresses at a time.
Do I need travel insurance?
Personal Insurance must be taken out to attend this trip.
Cover should include personal injury, emergency medical cover, and cancellation cover. The insurance must cover the specific activity you're taking part in.
I am nervous to join alone, should I go?
95% of our trips are made up of solo Adventuresses from all over the UK. Everybody admits to feeling nervous during their first adventure, but by the end of your trip you'll feel like you've made friends for life. Bonds are formed very quickly on our adventures, and every trip is introvert friendly!
How extreme is the weather?
You should come expecting typical Scottish winter weather, i.e. snow, wind, rain and high winds. At elevation you can expect temperatures between -1 to -6. 
You know what they say…. There is no such thing as bad weather, just bad gear. The better prepared you come the more you will get out of the trip, so come very well prepared!
The dates chosen are to ensure there is snow on the mountain so you can learn the relevant skills, however due to climate change it is now never a guarantee, but the day will be spent learning valuable mountain skills regardless.
Will we hike Ben Nevis?
Ben Nevis is a challenge that we like to leave to the summer months when the conditions aren't so extreme.
Where does the trip start and end?
Start: Day 1, 3pm – The Garrison Hotel, Fort William.
End: Day 3, 5:30pm, Fort William.
We will be meeting for check-in time at the hotel. Please ensure that you arrive at this time as we will head to collect our kit after check-in.
Get in touch if you would like for us to arrange extra nights accommodation for you.
Will there be an event chat group?
When booking a trip with us, you'll have the opportunity to speak to others joining your trip in a Whatsapp group. This is where you can discuss travel options, gear and maybe even get together pre-trip! Your trip host will be in the Whatsapp group to answer any questions you may have, and closer to the date your guide will also be added.
The chat will be opened in the weeks leading up to the trip. Until then feel free to contact us with your questions.
Will I be sharing a room?
You will be sharing a twin room with another Adventuress.
Single rooms are subject to availability and can cost anywhere between £100-200 depending on when it is booked.
Getting there
Regular trains run to Fort William from across the UK. The nearest airports are Inverness (INV) or Glasgow (GLA)
The Garrison Hotel is a 12 minute walk from the train station.
There is free parking at the Garrison Hotel. 
Meals & Hydration
On this trip you will be provided with 2 breakfasts.
Lunches and dinners are not included.
You will be required to bring packed lunches with you for our days on the hill which can be purchased in Fort William.
You will need to bring your own snacks. It is recommended to bring a good mix of high protein and sugar snacks to keep you going on the trail, and to eat often as you will be burning a lot of energy as we go.
Our evening meals in town are optional. We always strive to book restaurants with veggie and vegan options available.
Although it is winter, mountain hiking is thirsty work! Be sure to bring a minimum of 1 litre of water in a bottle and some hot tea in a flask. Each room comes with a kettle.
How big will the group be?
There will be a maximum of 11 Adventuresses on the trip, with a 1:4-6 guide ratio.
An Adventuress host will also be along for every part of the trip
Adventuress is all about pushing your boundaries to experience life beyond your comfort zone
What's waiting for you there? A sense of empowerment that'll leave you filled with confidence, and the realisation that you have it in you to achieve more than you ever imagined
Our guides and members of the community are super supportive, and above all we love to have fun. Laughter is 100% guaranteed
We recognise that some of you do not feel like you are represented in the world of outdoor pursuits, so we are on a mission to show that the outdoors is for everybody, so lets get out there and have some amazing adventures