Experience the best of the pyrenees by kayaking, hiking and canyoning through one of Europe's most awe-inspiring National Parks
OVERVIEW
ITINERARY
GALLERY
KIT LIST
FAQ
OVERVIEW
We have teamed up with 360 Expeditions to bring you the ultimate activity adventure in the heart of The Pyrenees Mountains. You will try your hand at kayaking, canyoning and mountain trekking whilst taking in the absolute highlights of this majestic mountain range. ​
Join us for a week of fun and exploration: we'll discover the stunning views as we trek part of the Thousand Lakes hike, wild swim and spend a night in a remote mountain hut, surrounded by shimmering lakes as far as we can see.
We'll have a full day of exhilarating canyoning, finding gorges carved from the waters crashing through, and rappel, jump and swim our way through – it's impossible to stop grinning throughout!
Then, we'll head to the world famous Mont Rebei gorge and have the chance to paddle our kayaks down the azure waters with the renowned cliff face towering above us. Our trek back along the trails carved into the rock, to the wooden staircase perched above the gorge, is nothing short of spectacular – deservedly featured by Nat Geo, it's one of the most impressive trails in the world! Join us for this amazing week in some of the most awe-inspiring locations Europe has to offer, and find out why we love this place so much!
360 Expeditions Leader & Qualified guides/instructors for all of the relevant activities

Transfers to and from Toulouse Airport, and all local transfers

A small group adventure with your Adventuress fam

Canyoning equipment and kayak hire

Accommodation in guest house, hotels or refuge sharing

Meals as per itinerary

15% discount from Cotswold Outdoors

Monthly Payment Plan on request
ITINERARY
Day 1: Arrive in Toulouse
You will be met at the airport by your 360 guide for this week and we'll transfer to Luchon to a centrally located hotel, before heading out for a delicious meal in this picturesque mountain town.
Day 2: Aiguestortes National Park: Canyoning
An early start sees us transfer for 1 ½ hours across the border into Spain to the start of the magnificent limestone canyon of Viu. This canyon is one of dozens that carves its way deep into the rugged mountains of the Aiguestortes National Park, promising an adventure like no other.  Your 360 guide will join forces with a specialist canyon guide and together they'll lead you through this beautifully sculptured slot canyon where every few minutes you'll be met by a different challenge: you'll have the chance to jump down into the crystal clear pools, abseil into narrow chambers, swim through narrow winding corridors and scramble through boulder strewn passages. Above, the sun filters through the narrow walls of the canyon to cast surreal light and shadows lending an otherworldly quality to our journey.
We pack a picnic lunch, and we'll stop on a small beach in a sunny spot before continuing for a few more hours down this unique canyon.
At the end of the day, we'll be driven a short way to our hotel, located besides a gorgeous mountain lake where we can water ski if we wish (an optional activity for the day, at additional cost) and swim, before a magnificent Pyrenean dinner.
Day 3: Mont Rebei: Kayaking & Trekking
A delicious breakfast starts us off on another incredible experience. The Mont Rebei gorge has been heralded as one of the most outstanding landscapes in Europe and its potential for adventure recognised by a host of travel magazines, including National Geographic. Today we experience this area in the best possible way by launching kayaks onto its warm azure blue waters and paddling right into the heart of this incredible gorge. Dwarfing our tiny vessels are the immense yellow and red limestone walls of the gorge where, looking up, we can see a tiny path carved incredulously into its vast vertical side. This path was created by local farmers and traders over a hundred years ago to bring their mule teams laden with produce to the remote mountain villages above the gorge and to link the Spanish provinces of Catalunya and Aragon.
After we paddle to the end of the gorge, we'll find a shady spot to have a picnic lunch and have a chance to take a refreshing swim before stepping into the hoof prints of the mule teams and traverse their spectacular trail back to the entrance of the gorge. We quickly appreciate why this journey is rated as one of the most spectacular treks in the world as we climb wooden staircases bolted into the rock and traverse the narrow winding trail carved into the vertical walls high above the sparkling waters of the gorge.
​A more magical day out would be hard to imagine and, glowing from our experience, we transfer back on spectacular mountain roads back across the French border to Luchon to check in to our centrally located hotel and head out for what's sure to be a lively group meal.
Day 4: 1000 Lakes Trek (Col De Caldes, 2,200m)
After an early breakfast, we'll transfer for an hour to our start point at Banos de Tredos in Catalonia, Spain, leave the minibus behind and, without further ado, launch into this spectacular trek.
From the Banos (hot springs) we initially trek through native stands of Pyrenean black Pine, surrounded by lush meadows of Alpine flowers.  A steady climb over the Col de Caldes brings us past lakes and wild and rocky landscapes until we reach the Ventosa refuge, one of the most spectacularly located refuge in the Pyrenees. Our evening will be spent enjoying a relaxing dinner which inevitably turns into some fun (and, if Rolfe's involved, competitive!) card games with the team, before some down time peacefully gazing at the stars in this stunning mountain spot.
Approx. trekking time: 5-6 hours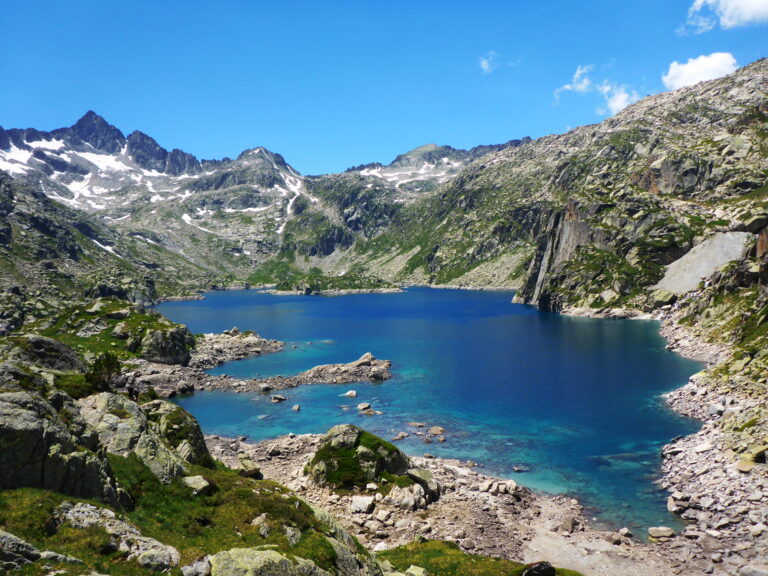 Day 5: 1000 Lakes Trek(Col de Colomers, 2,605m)
Today we continue our exploration of this amazing landscape. We are well above the tree-line and before us lays a day of mountain discovery. We bid adieu to the hospitable refuge and, watching scurrying marmots along the way while relishing the cool breeze bringing the scent of the alpine flowers dotting our path, we trek onwards and upwards to the highest point of our day, the Col de Colomers, at 2,605 metres. Here, our challenging trek is rewarded with an incredible panoramic vista. Not only can we see our morning's route winding back to the north but, as we gaze across to the south, we see the Cirque de Colomers, surrounded by Pyrenean summits, their sharp peaks jagged against the skyline, sheltering hundreds of sparkling lakes and tarns beneath. After a time to soak up these impressive views and allow them to imprint into our memories, we begin our descent and start to make our way back to Luchon.
Approx. trekking time: 7-8 hours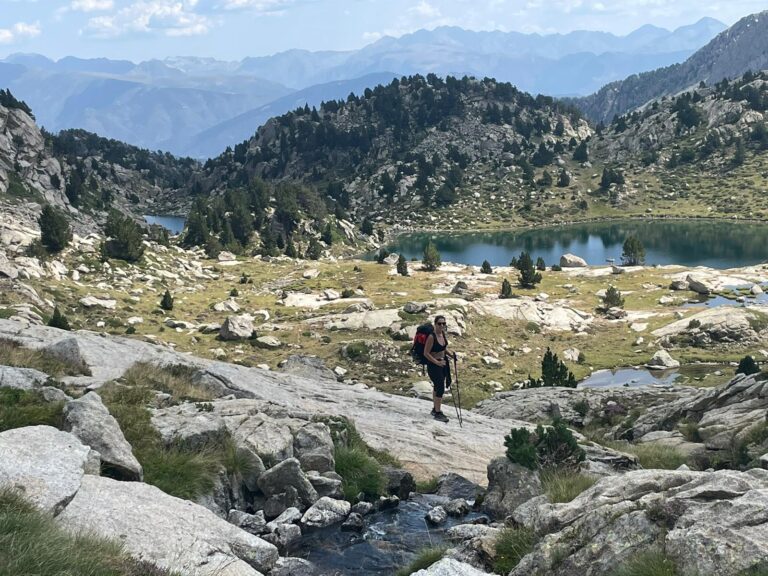 Today may mark the end of this incredible getaway but the fun doesn't have to be over just yet!
Flight times depending, you'll have the chance to prolong the adrenaline rush (possibly dictated by the previous night's shenanigans!) by doing as much or as little as you wish.
There is plenty to do around Luchon, and you will have your 360 guide at hand with the minibus to assist with transfers if needed.
You could head to Superbagneres and take to the air by tandem paraglider, enjoying a morning of hot-rock climbing or head off into the hills for some mountain biking through the stunning countryside. Otherwise, hop over to Balnea and simply enjoy a leisurely morning winding down in the spa, or relax in Luchon with a quiet coffee, soaking up the atmosphere of this bustling town from one of its many street side café's.
​Your airport transfer timings will be advised, and after your last activity we'll depart for Toulouse ready for your flight home!
(Please note that the activities above are additional to the itinerary and must either be paid for in situ in cash or will be billed separately.)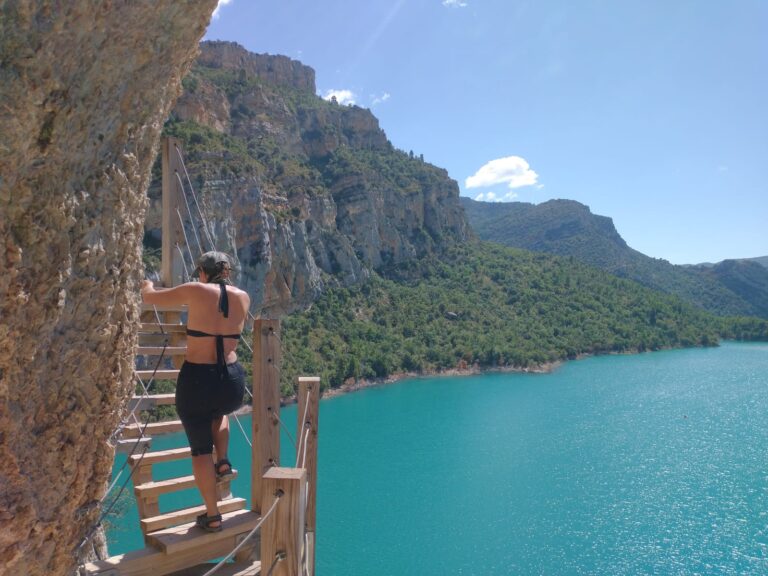 GALLERY
KIT LIST
BAGS & PACKS
Bring a 40-60L rucksack that is well worn in and with a good waist belt. A waterproof cover is advisable (remember that these covers are not 100% waterproof but act as a barrier). You can leave belongings in Luchon for the end of the trek, but while out in the hills you will need to carry all of the kit that you are not wearing.
Rolltop bags that keep fresh clothing and other important items lime your passports and electronics dry in the event of a total downpour that could seep into your kitbag. Good for quarantining old socks! Please note that France has banned plastic bags. In any case, we would always advise buying reusable and sustainable nylon rolltop bags for keeping your kit dry.
Waterproof rucksack cover
SLEEPING GEAR
You will need a 2 or 3 season sleeping bag for use in the refuges. Make sure it is rated to 5°C and choose a sleeping bag that functions within the comfort rating of this temperature. A silk sleeping bag liner will enhance this rating on cooler nights.
Sleeping bag liner (Optional)
Bedding is provided at the hotels / guest houses and you will have your sleeping bag for the refuges, but some people prefer to bring a sleeping bag liner for extra warmth / comfort. Silk is best for keeping you a little warmer.
HEADWEAR
This can be a warm hat, beanie, balaclava, anything to reduce the heat loss from your head. We'll hope for sun, but it can be chilly in the mountains – and after the watersports you might be cold after getting out of the water.
Keeps the sun off exposed areas like ears and the nape of the neck
Category 4, wrap around style sunglasses are highly recommended. These sunglasses allow for the highest available protection against harmful UV light found at altitude and from glare from the snow, if there is some at the higher altitudes. It's worth spending money on good UV filters.
Sun cream does not work on your lips, and they will be susceptible to sun burn without proper protection.
We'd recommend you buy the highest SPF you can find, as UV intensifies with altitude especially when reflecting off the water.
UPPER BODY
This is the layer closest to the skin and its principal function is to wick, or draw, moisture and sweat away from the skin.
These are typically lightweight microfleeces or similar technology that provide varying degrees of warmth and insulation without being overly bulky or heavy to pack
A couple of T-shirts are advisable for this summer expedition. The days are reasonably warm, with high temperatures at lower altitudes.
These jackets are thin, highly waterproof and windproof and worn over all other items of clothing. You'll find these made of Gore-Tex or other proprietary waterproof yet breathable technology. Inexpensive hard shells that aren't breathable will prevent evaporation, making you sweat intensely and, as such, are not recommended.
These should be windproof (not all are) and insulative. They are mostly made of soft polyester and sometimes resemble a neoprene finish which makes them very mobile and comfortable to wear. While offering a degree of weather repellence, do note they are usually not waterproof.
LOWER BODY
A couple of pairs of shorts are advisable for this summer expedition. The days can be reasonably warm, with high temperatures at lower altitudes.
These tend to be polyester so they dry quickly after a shower and weigh little in your pack. Consider perhaps a pair with detachable lower legs as an alternative to shorts.
Merino or wicking material, not cotton. How many pairs you take is entirely up to you!
A lightweight pair of Goretex trousers will act as a great windproof too.
FEET
Well worn in 4 season waterproof boots with mid to high ankle support
Comfortable Trainers/Crocs
For use in the evenings. With most refuges, you will need to take your boots off when you go in. Some provide croc/slippers but not all.
Whether you wear a single layer, or 2 pairs, is a personal choice. Lighter weight merino wool is a good option.
Comfortable Evening Clothes
HYDRATION
You'll need enough to carry 2 litres, either in a combination of bladder and Nalgene bottles, or just Nalgene bottles
Although generally all water is boiled or brought filtered from the hotel or refuge in the morning, some trekkers prefer to double up and add purification tabs as well. Always good to have in your bag.
TOILETRIES
Keep it simple. Essentials are toothbrush, toothpaste and deodorant. Moisturiser is advisable, everything else is a luxury!
Provided at the accommodation, and at public toilet facilities, but a spare in your daysack may be useful if you need to hide behind a rock during the day.
Packable & Lightweight!
MEDICATIONS
The 360 medical kits are designed to be used in emergencies and are akin to an A&E rather than a pharmacy, so please come prepared with useful meds for yourself such as painkillers (Ibuprofen if you can take it and Paracetamol) plus blister plasters, plasters, antiseptic, rehydration sachets and any muscle rubs you wish to use.
Kept in an accessible location in your pack
MISCELLANEOUS
Bring plenty of spare batteries and memory cards. A power pack is handy for keeping things charged in the case of no charging points in the refuges
Head torch + A Spare or spare batteries
Although you will be fed well, we do we advise bringing a small selection of energy bars or your favourite snacks. Have a couple per day.
For the wild swimming, canyoning (you'll be provided with a wetsuit on this day also) and for any other opportunities throughout the trip if you wish!
Optional, but they can be useful on the trekking sections. These tend to be a personal preference, but can help with your stability and can dampen the pressure on the knees coming down hill.
DOCUMENTATION
Don't forget this! Your passport should have at least 6 months validity: ie. your passport expiry date needs to be at least six months after the final day of travel. Make sure you also have at least two blank pages.
We recommend you have a dental check-up before your trip. New fillings can be an issue at altitude if there is an air pocket left in the gap
Bring a copy of your own travel insurance details and relevant contact numbers.
360 Expeditions have a partnership with True Traveller and would recommend that you contact them when looking for travel insurance for your trip with 360. However, it is vital that you ensure that the insurance cover they offer is suitable for you, taking your personal circumstances (items to be insured, cancellation cover, medical history) into account. Many other insurance providers are available and we do recommend that you shop around to get the best cover for you on the expedition you are undertaking.
It is your responsibility to ensure that you have the appropriate insurance for your intended trip, to include at a minimum medical evacuation and coverage up to the maximum altitude and for the relevant activities included on this trip.
FAQ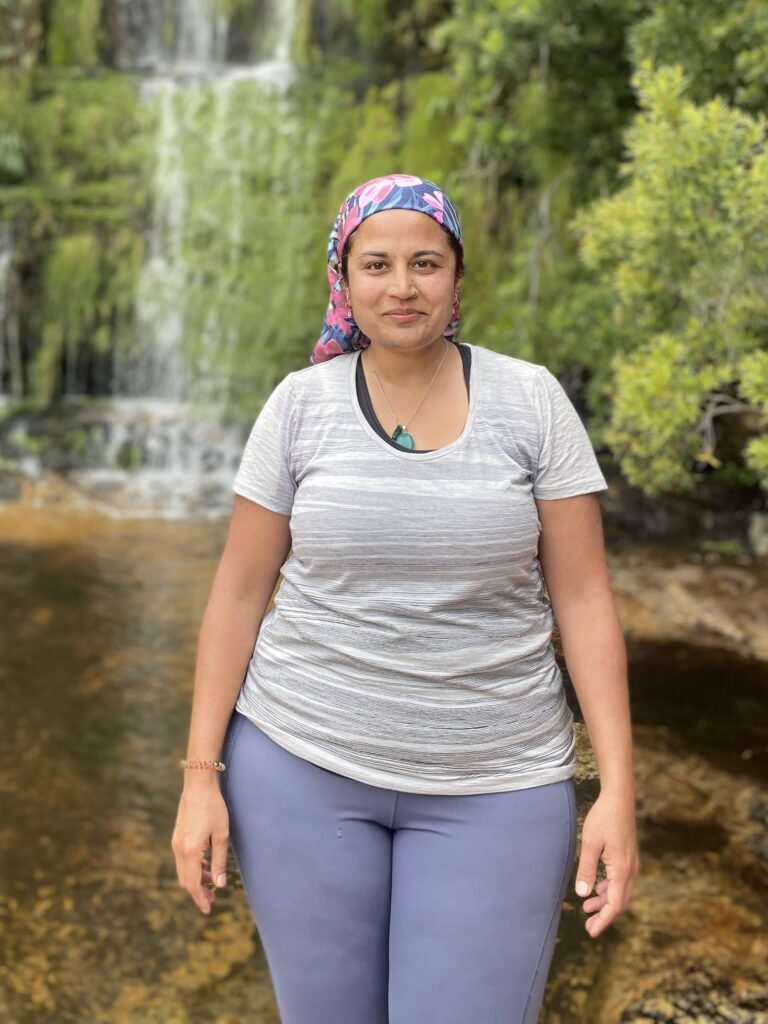 I have been on two big trips with Adventuress. From these adventures I feel like I have found a new sense of freedom, and have uncovered new strengths by taking a leap out of my comfort zone. Above all I have shared laughter and soulful talks with beautiful women. Certainly made me look at life in a whole new light
Kam Hunjan
on South Africa Adventure Retreat & Peak District Big Weekend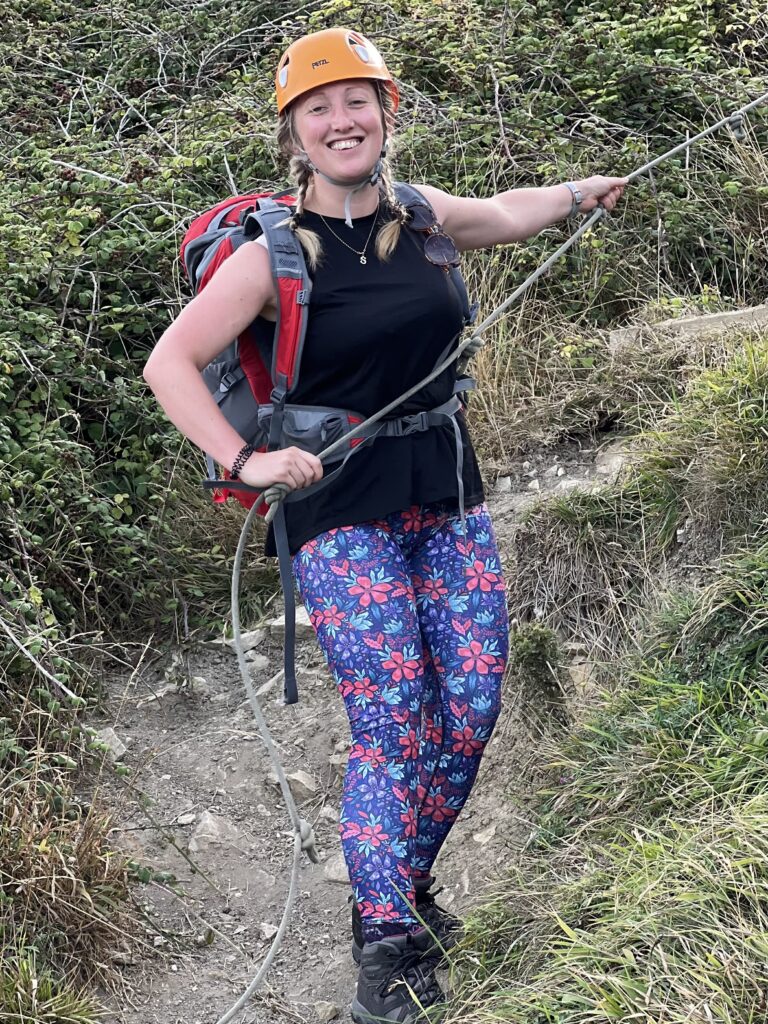 The whole weekend I felt I had permission to be utterly myself and that's down to the vibe. I don't remember feeling like that in a long time and it was pretty incredible and actually kind of transformational
Sam Kenny
on Portland Climbing & Hiking Adventure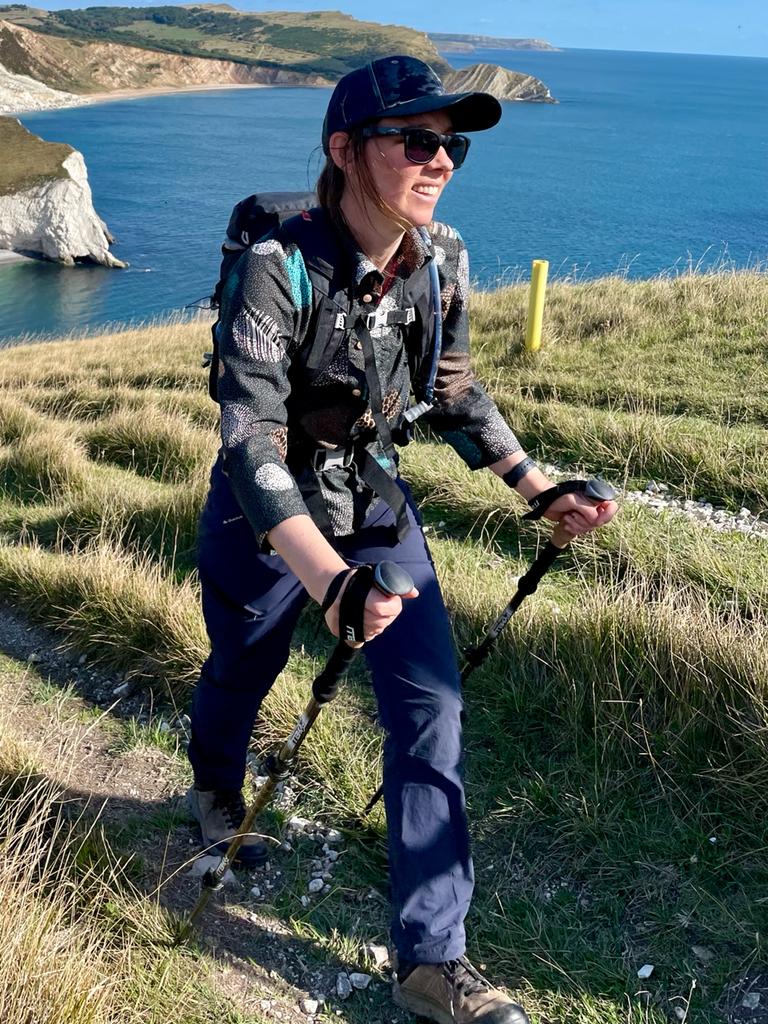 Adventuress made my dream come true of hiking the SW Coast Path. I would never have achieved it without the organisation and support of Adventuress. The thoughtfulness and care put into the whole experience made it truly unforgettable.
Jo Cameron
on Jurassic Coast Multi-Day Hiking Adventure
Adventuress is all about pushing your boundaries to experience life beyond your comfort zone. 
Whats waiting for you there? A sense of achievement that'll leave you filled with confidence, and the realisation that you have it in you to achieve more than you ever imagined. 
Our guides and members of the community are super supportive, and above all we love to have fun. Laughter is 100% guaranteed. 
We believe that every community matters, which is why we welcome all women and non-binary femmes. We recognise that some of you do not feel like you are not represented in the world of outdoor pursuits, and we want to break that barrier and get everybody out having an amazing adventures.
The outdoors is for everybody

Celebrating every woman's uniqueness

Total respect for Mother Nature