Become a self sufficient hiker in 3-4 weeks

You want to spend time in nature but want to feel confident getting out on your own.
You would like to live a more active and outdoorsy lifestyle and reap the physical and mental benefits of free activities such as hiking and backpacking.
IMAGINE IF YOU WERE A SELF SUFFICIENT HIKER WITH NO PROBLEM HEADING OUT ON YOUR OWN OR ORGANISING A DAY OUTDOORS WITH YOUR FRIENDS
what if
you know how to..
It is possible to become a strong confident hiker
You don't need to be an athlete to get out on the trail. Hiking is one of the easiest roads to physical fitness. You also don't need a highly tuned sense of direction. 
But you do need the right mapping tools and gear to fully enjoy being out on the trail and to stay safe
Increase physical and mental wellbeing by getting outdoors more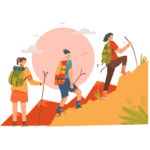 Have access to an outdoors lifestyle and community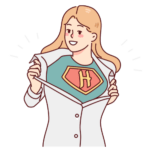 Build confidence through self sufficiency
Kate Capelli, founder of Adventuress In The Wild is a qualified Hiking Guide, Outdoor First Aider, NNAS navigation award holder and ex outdoor store employee/ self-confessed gear nerd.
Kate didn't grow up seeking active pursuits, and started hiking ten years ago at the age of 27. Since then she has hiked long distance routes around the world and has now led almost 100 hikes for the Adventuress community.
Hiking changed Kate's life, making her happier, healthier, and helped her to find a community no matter where she found herself in the world. Now she wants to share her knowledge with you.
Highly recommend! I wanted to make a positive change and to go out and meet new peiople with similar interests and to build my confidence and self-esteem. I'd always loved walking and hiking but never felt I knew enough to do it on my own (or even if it was something you could do solo!) Then I came across Adventuress in the Wild. Kate's Confidence Outdoors Course was exactly what I was looking for. I was very nervous to go on my own but I didn't need to be; I was instantly put at ease. Kate is very friendly and welcoming and all the ladies attending were great. It was a really lovely day and Kate was a brilliant guide.
I took the Confidence Outdoors Course, which concluded with an enjoyable and fun hike around the Chlterns. Kate is friendly, enthusiastic and very knowledgable, and I learned a lot, and loved putting some of it into practise on the hike, especially the OS map-reading. Recommend checking it out!
The Confidence Outdoors Course was exactly what I needed. I have gained the knowledge to get hiking/camping on my own - where you can hike, how to create your own route, which applications to use, what to do in case of emergency, what to pack and much more. Kate is very knowledgeable and helpful. The week 4 hike was brilliant, so lovely to meet all the other ladies, the vibe was very relaxed and positive. I would definitely recommend this course to other women. Thank you Kate for giving me the confidence to do this on my own.
AFTER THIS COURSE YOU CAN
IS THE COURSE RIGHT FOR ME?
This course is perfect for both absolute beginners and those who are into hiking and camping but want to increase their knowledge on route planning and gear. 
If you are looking for a fun free hobby in 2024 with tonnes of benefits then this is it!
Most of this course is online until week four when we will get together for an easy going hike.
'Finding your way'
Virtual Live
'How to stay warm and dry on the trail'
Virtual Live
'Camping & Backpacking'
Virtual Live
The hike follows a stunning trail around the Chess Valley in the Chilterns, Area of Outstanding Natural Beauty. Accessible by tube and train from central London 
The trail weaves through forests and open field, connecting with the River Chess. We will pass by the grand Chenies Manor and plenty of cute countryside houses.
During the hike we will learn how to follow the route using a map, and celebrate everything we've learned in a local country pub. 
'Beyond the Live' In depth summary PDFs  

Links to everything mentioned in the Lives

Camping & backpacking meal cards 

Packing lists for Day Hikes, Multi-Day hikes & Camping
You will be added to the Adventuress course Whatsapp group where you can swap ideas and arrange hiking meet ups with others on the same journey
This course, along with any other event can be gifted as a Christmas present. Ask us how by getting in touch at info@adventuressinthewild.com
Virtual Learner
3 week course
Members price: £30 (Contact for payment link)

Packing lists & meal cards
Full Course
4 week course
Members price: £40 (Contact for payment link)

On trail map reading workshop

Packing lists & meal cards
Full Course Extra
4 week course + 1-on-1
Members price: £55 (Contact for payment link)

2x 45m 1-on-1 Virtual Consultations to plan a trip or a personalised Q&A

Access to AITW members AllTrails routes

On trail map reading workshop

Packing lists & meal cards